I promised a couple of posts ago that I would tell you how to subscribe to a pod cast and since I am sitting on my front porch enjoying a great Indian Tabac Cameroon Legend and Scotch, I have a couple of more minutes to kill so I will tell you how:
1. There are a couple of programs you can use to listen to and download a Podcast. The easiest way is to download the latest version of iTunes from apple which encludes a Podcast feature. You can also download a stand alone solution such as iPodder http://ipodder.sourceforge.net/ but iTunes is the easiest to use. So start by going to the iTunes website: http://www.apple.com/itunes/ and download the latest version of iTunes. The steps are basically the same regardless of the program you use just with slight variations.
2. Go to the podcasting section of iTunes:
3. Click the Advanced area:
3. Click on Subscribe to Podcast: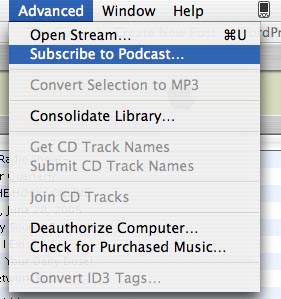 4. Enter the url below EXACTLY AS SHOWN:
5. That's it…Click on OK and you are good to go. iTunes will do the rest. Every time there is a new episode of The Car Cast it will be downloaded automatically into iTunes.
Enjoy!